Black Labrador Puppies Currently Available
We have 4 Black Lab Puppies available – 2 Males & 2 Females.  These puppies are available to go to their forever homes June 29/30th.  Beautiful heads, nice otter tails, 5 th generation.  
Please contact me regarding these gorgeous pups!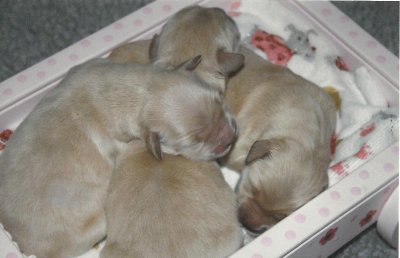 Unconditional Love
My dog….he's with me all through the day,
but, never a word is he able to say….
Yet, he can say more, with a look or two,
such as, I love you, Dear Master, my whole world is you!
As I do my chores, throughout the day,
He's at my side, every step of the way.
When I stop to eat, you can bet that he's there,
curled up of course, in his favorite chair!
And if should be, that I decide to go out,
He'll hang his head, he'll sulk and he'll pout.
He sits there and waits, so patiently,
Hoping of course, that he'll soon see me!
He sits by the window, until I come home.
Greeting me with his favorite chew bone.
He just can't wait to hear the key in the door,
He's barking and jumping, and barking some more!
As night time falls, and I lay down to sleep,
He's there by my side, his vigil to keep.
And I thank the Lord, in Heaven above,
For my best friend, and Unconditional Love!
Author Unknown